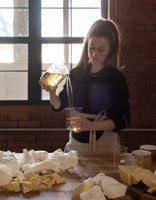 Kate's Story
A pastry chef with dry skin, Kate tried using one of her favorite ingredients, cocoa butter, on her body. The results were transformational. But cocoa butter is rock hard in its natural state. Kate wondered if she could make it easier to apply without diluting its raw power as a solid. She thought about how she worked with chocolate, went into the kitchen, melted it down, and blended in luxurious oils. 
After years of perfecting the recipe, the Body Stone was born: a solid moisturizer that glides on like silk—without the sticky wax, preservatives, synthetics, or stabilizers traditionally used to make lotion bars. 
Kate's innovative Stone-shaped solid moisturizers are waterless concentrates designed to intensely nourish the skin—a little goes a long way. By removing water from our formulas, we are able to create sustainable, plastic-free packaging and avoid some of the biggest culprits of waste in the beauty industry. 
Made in the Hudson Valley
This started in Kate's kitchen, where synthetics are forbidden and quality reigns without compromise. Kate understands the beauty of simple, homemade recipes made from whole, good-for-you ingredients.
Unlike most beauty founders, Kate formulates everything from scratch so she knows exactly what's in it and how it's going to work for you. She has personally hand poured thousands of Body Stones and is committed to staying as close to our production process as possible. She currently oversees our Hudson Valley workshop, which hand crafts her recipes with integrity, care, and love.
At Kate McLeod, we keep our people and our processes close to home, employing local chefs, bakers, and makers to create products that are handmade just for you.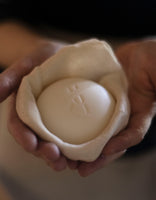 Base Ingredients
Simple ingredients for moisturizing results you can see and feel.
Cocoa Butter

Naturally rich in antioxidants and fatty acids to soothe, heal, and hydrate

Sweet Almond Oil

Packed with vitamins D and E to reduce irritation and lock in hydration

Apricot Kernel Oil

Lightweight emollient smoothes and improves skin texture

Avocado Oil

Drenches your skin in thiamin, riboflavin, and vitamins A and D

Fractionated Coconut Oil

A feather light emollient that softens and hydrates dry skin without the grease
Essential oils
All natural essential oils that provide benefits for body and mind.
Rose

Frankincense

Neroli

Lavender

Chamomile

Bergamot

Vetiver

Palo Santo

Clary Sage

Geranium
OUR MISSION
We make safe, effective products that bring intentioned moments of care and everyday magic to people's lives.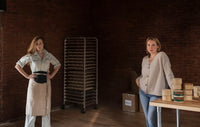 Kate McLeod
Co-Founder and Formulator
Kate left a career in finance to become a pastry chef, called off a wedding and returned to reunite with her first love, found solace on a yoga mat, and accidentally stumbled into the world of skincare via a chunk of cocoa butter. Kate uses her classical culinary training to harness the power of natural ingredients and transform them into award-winning, zero waste products.
She currently lives in the Hudson Valley with her husband Justin and two children, Oliver and Margaux.
Nichola Gray
Co-Founder
Nichola is an experienced operator with a passion for problem solving and innovation who lept at the opportunity to join Kate in bringing her business out of her kitchen and into the world. Nichola has led the company's efforts to scale its made-from-scratch manufacturing capabilities and double down on its sustainability initiatives.
She currently lives in the Hudson Valley with her husband Peter and two children, Quinnie and Louis.