Warm-Weather Shipping Initiatives
1. Cool Shipping
To keep your Stones cool and protected while en route to you, each shipment includes biodegradable and dissolvable insulated foam liners made of US-grown, non-GMO corn, and sweat-resistant ice packs.
2. Expedited Shipping
To reduce transit time, all orders over $85 are expedited free of charge via USPS Priority Mail. If your order is under this threshold, we charge a small $2.99 fee in addition to our standard $5 shipping cost.
3. Shipping Windows
To ensure packages don't get stuck in hot warehouses or trucks over the weekend, we limit our shipping window to Monday through Wednesday. Orders may take up to 5 business days to ship.
why we melt
"Our solid moisturizers are made to melt on contact with skin and glide on like silk as our formulas use natural, plant-based ingredients without any sticky wax or synthetics."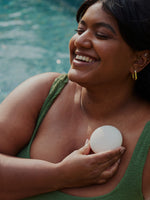 We Need Your Help
Take these additional steps to help us ensure your package arrives to you in optimal condition: 
Ship your package to an address where somebody will be available to accept the delivery.
Bring your package inside as soon as you receive your delivery confirmation e-mail to avoid it sitting outside or inside a warm mailbox.
If you didn't catch your package in time and softening occurs, pop your Stone into the fridge for 30 mins of chill time.
Keep your Stone wrapped in its linen cloth and stored in its beautiful bamboo canister after each use.